1. Introduction of TPUStack SizerFine

TPUSTACK SIZERFINE high frequency vibrating is such equipment of which a single driving source drives multiple screen decks to vibrate simultaneously. The effective feeding width of tpustack sizerfine is the sum of multiple single screens.
The processing capacity, screening efficiency and service life of tpustack sizerfine are similar to US Derrick stack sizer. In tpustack sizerfine up to five screen decks is positioned one above the other and operating in parallel. Each screen deck completes separating independently and has separate under-size and oversize collection pan. The under- size/oversize collection pans discharge to two common outlet respectively.
2.Mechanism of TPUStack SizerFine
Two vibrating motors supply the vibratory action for all five of the screen decks. This high frequency vibratory motion is uniform throughout the entire width and length of each of the screen decks.

The use of dual vibrating motors creates a linear vibratory action by which an acceleration of 7.5G is discharged on particles.

Once the thin layer of slurry is introduced to the screen surface, the slurry is accelerated by the linear vibratory force.

This acceleration extends the effective fluidized zone of the mineral slurry, which enhances the separation over a larger area of screen surface.

The linear motion also conveys the screen oversize material out of the way of oncoming feed slurry so that more open screen area is available for the oncoming feed and classification efficiency is improved.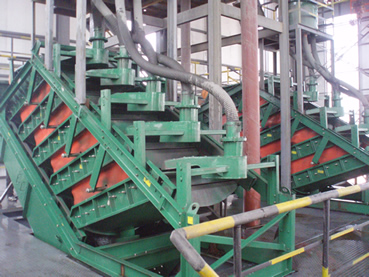 3.Advantages of TPUStack SizerFine
(1) Big screen area specific capacity

Practical production indicated when iron ore concentrate is treated:·
area specific capacity is 9-10 t/m2•h at screen aperture 0.15 mm

area specific capacity is 8-9 t/m2•h at screen aperture 0.10 mm

area specific capacity is 6-8 t/m2•h at screen aperture 0.08 mm
Area specific capacity of TPUstack sizerfine is 1.5-2 times of single Electromagnetic vibration sizer.
(2) Big floor area specific capacity

TPUstack sizerfine has greatest capacity at the same floor area coverage comparing to other vibrating fine sizers. One 5-deck stack sizer is able to replace 3-6 single deck vibrating fine sizers.

At the same capacity stack sizer saves 1/3 floor area.
(3) Patented repulping system improves the capacity and quality of screening
(4) One pair of motors provides a uniform high frequency linear motion throughout the entire volume of all screen decks. This cannot be realized by electromagnetic vibrating sizer.
(5) Screen frame surfaced by polyurethane, extending machine life significantly

(6) Low energy consumption (single machine power draw 4.5kW)
4.Structure of TPUstack sizerfine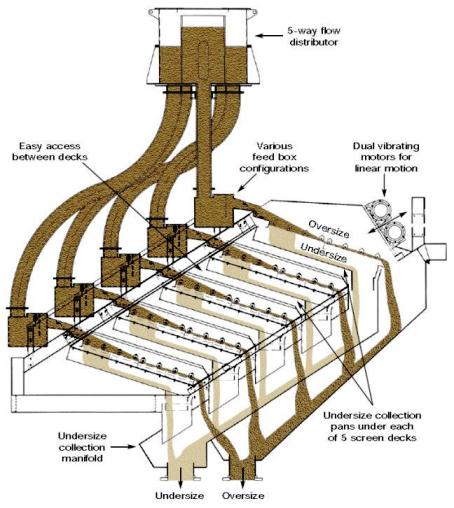 5.Parameters of TPUstack sizerfine
No

Solid Feed

Flow Rate

(t/h)




Feed Concentration







Feed size(-200 mesh)







Oversize Fineness(-200 mesh)




Undersize

Fineness

(-200 mesh)

Classification

Efficiency

Sand

Returning

Ratio

1

32

17.81%

66.00%

24.00%

87.00%

87.88%

50%

2

67.8

32.78%

48.00%

13.00%

76.00%

87.96%

80%

3

87.3

39.43%

45.00%

13.00%

70.00%

87.33%

78%

4

78.9

36.70%

51.00%

17.00%

73.00%

86.90%

64.7%

5

112.4

46.80%

46.00%

18.00%

73.00%

80.79%

96.4%

6

160.5

43.31%

47.00%

21.00%

78.00%

75.70%

119%

7

100

44.00%

60.00%

21.00%

79.00%

88.53%

48.7%

8

102.3

26.80%

76.00%

44.00%

92.00%

80.70%

50%

9

91.45

37.75%

54.33%

21.00%

77.20%

85.37%

69.63%
Please note that:
All above equipment we offering are just basic models; 2.MES can produce the specific machinery according to clients' requirements
6. Application of TPUstack sizerfine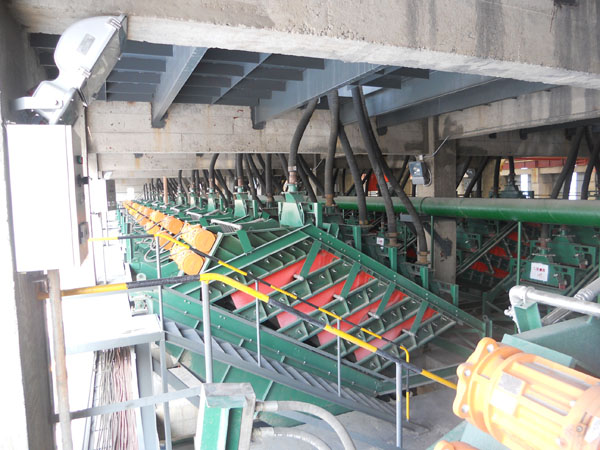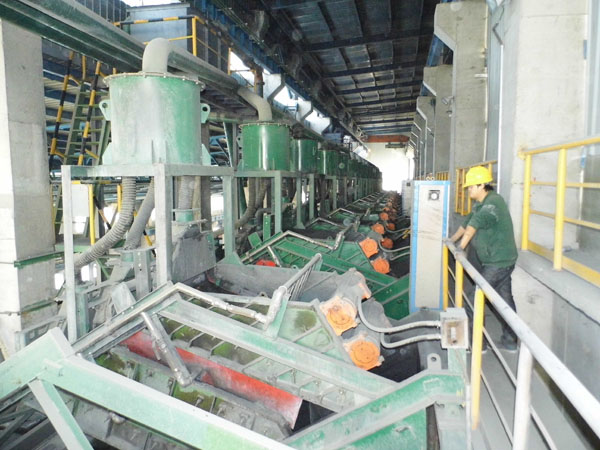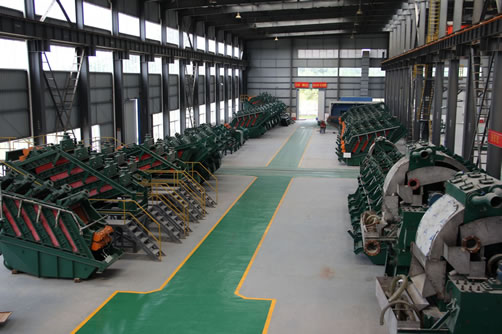 Contact us:

Mr.Kurt
Email: jiangmy@hot-mining.com