1 Summarize
At present, the large number of coal gangue in various coal mining enterprises not only occupy a large amount of land, but also cause serious solid pollution; soluble substances dissolved in coal gangue, causing surrounding water resources and soil pollution; coal gangue mountain spontaneous combustion, a large number of gas containing SO2 escape into the environment, causing serious air pollution.In recent years, coal mine intelligent gangue technology developing very rapidly, XRT intelligent sorting system combined with gangue filling system, can promote coal mine gangue out of the well, the ground, effectively eliminate a series of gangue ground stacking caused by ecological environmental protection problems, minimize the disturbance of coal mining to ecological environment, realize high quality development of coal green mining.
2 Selection principle and scale selection of underground gangue
Taking Lingbei Mine as an example, the sorting of underground gangue and equipment selection are discussed in detail.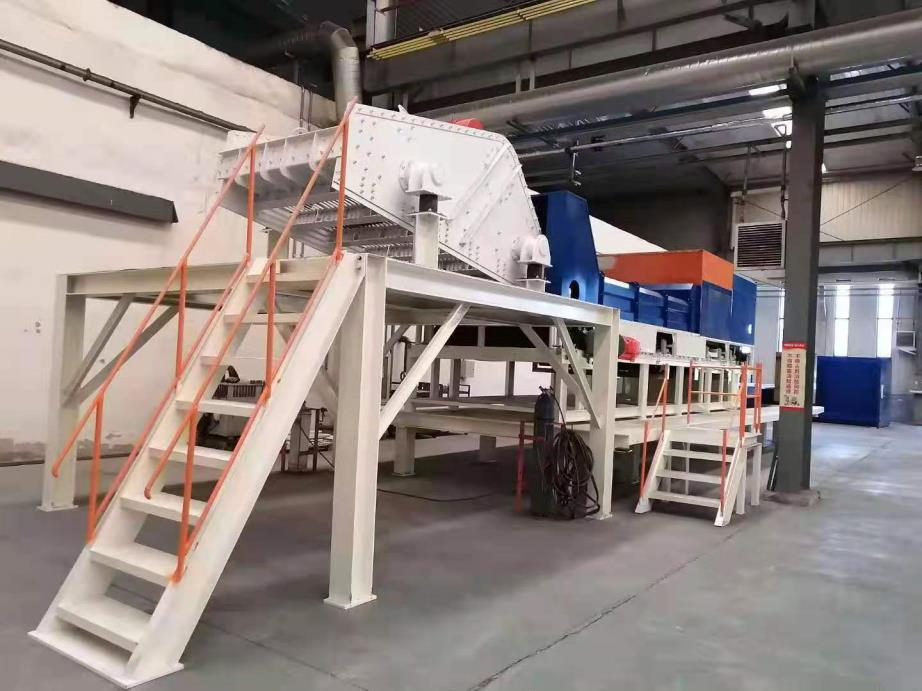 2.1 Downhole profile
Lingbei Mine is located in Liangdu Town, Lingshi County, Shanxi Province. The proposed mine industrial site is about 16 km northeast from Jiexiu City and 15 km southeast from Lingshi County in the southeast. Its administrative division belongs to Liangdu Town of Lingshi County.
The designed production capacity of Lingbi mine is 2.4 million t / year, using inclined well development method, comprehensive mining method and full high mining method.The working system is 330 days per year, 16 hours per day, and the underground staff adopts the four-six system. Spirit of northMine is mainly mined no.2 coal and no.10 coal, coal mainly to coking coal.
The main problem solved this time is to respond to the call of environmental protection policy, the large gangue is not out of the well, in the underground sorting, directly backfill.
For coal quality, the screening table of coal is shown in Table 1.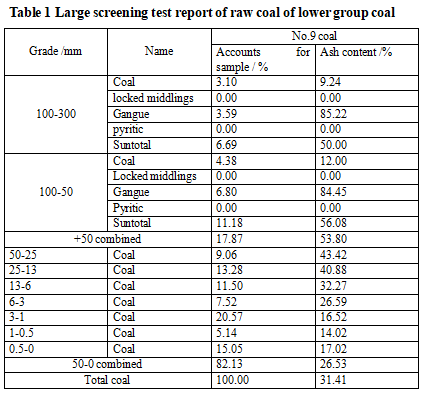 2.2 Selection of the gangue sorting process
There are many kinds of coal selection methods for sorting bulk gangue, but it is relatively difficult to wash water underground. Therefore, dry washing method is a widely used sorting method. Its main advantages are simple process and low investment cost, which are especially applicable in northern China.
Routine dry selection includes: wind dry selection machine, differential dry selection machine, composite dry selection machine, etc., but the application conditions are harsh, for the physical nature of the material is high. For example, moisture can not be too high, and maintenance costs are also high, washing accuracy is limited, in order to overcome the shortcomings of dry selection, XRT came into being.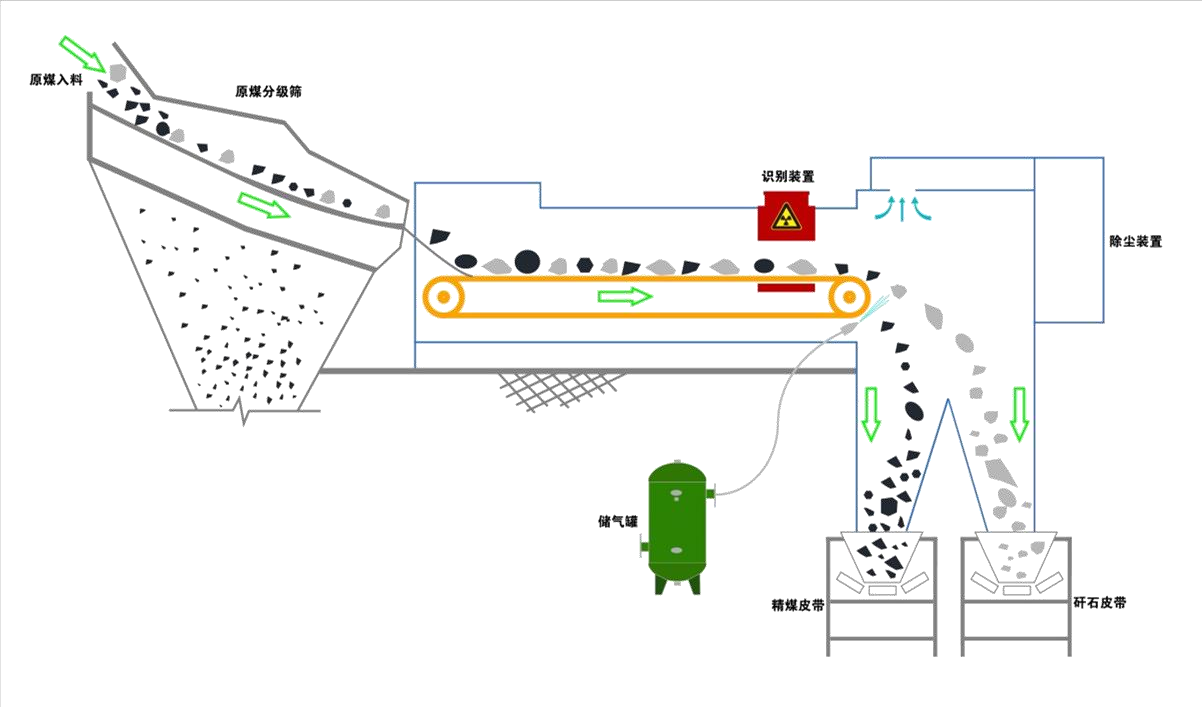 XRT Intelligent Mineral Ore Sorter is different from the traditional coal selection method, it is not sorted according to density differences, but using big data calculation and intelligent identification technology, according to different coal quality characteristics of suitable analysis model, coal and gangue digital identification, and finally through high sensitive and reliable actuators.At present, XRT Intelligent Mineral Ore Sorter has a certain market, and stable operation.
In terms of sorting accuracy, the XRT sorting accuracy is close to the shallow groove, which is higher than the moving screen, jump survival and other dry selection equipment.The gangue belt coal rate is 1% ~ 3%, and the coal belt gangue rate is 3% ~ 5%.The processing particle size is wide, and the equipment area is small, almost equivalent to the hand selection machine area, simple transformation.
In conclusion, select the XRT Intelligent Mineral Ore Sorter.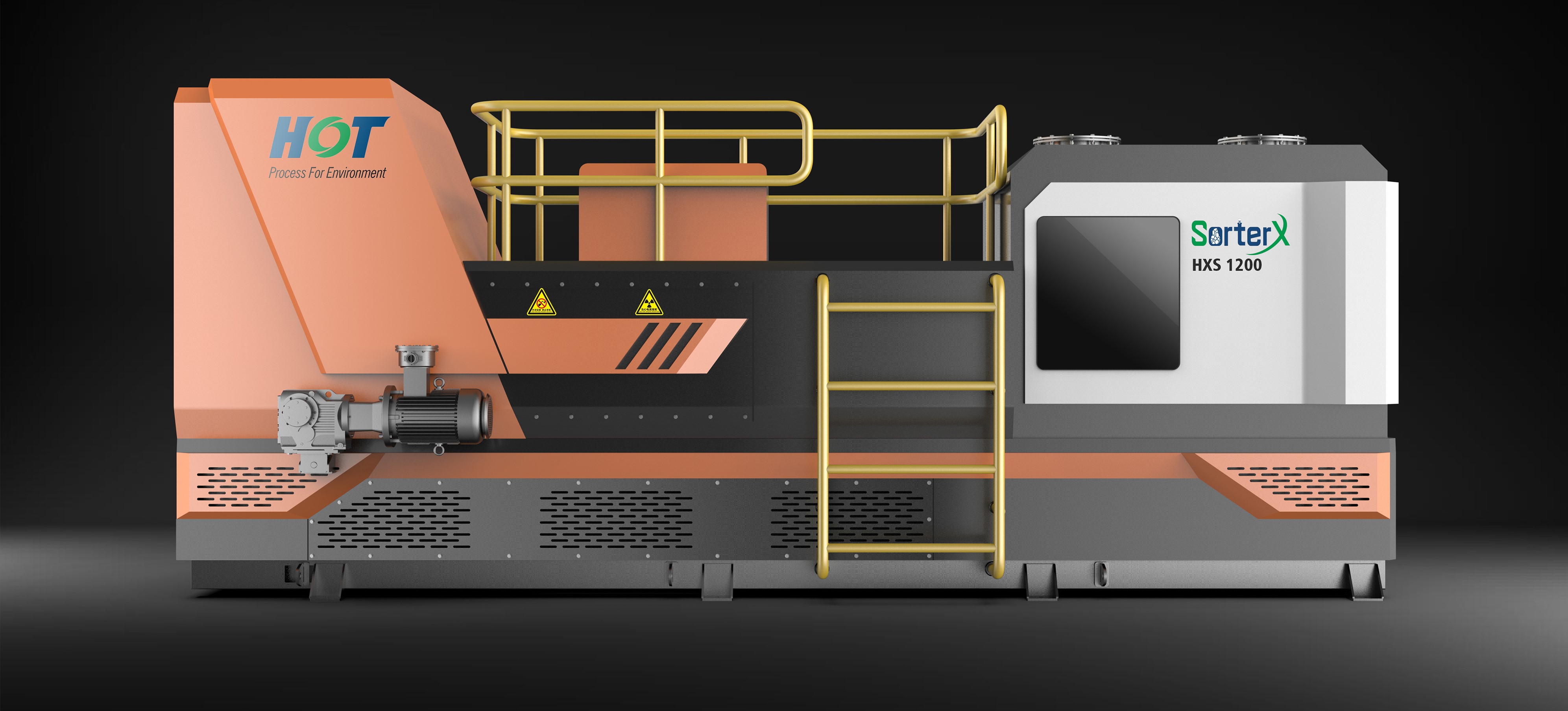 2.3 Soration principle and scale selection
XRT sorting principle: intelligent identification method is adopted to establish a suitable analysis model for different coal quality characteristics. Through big data analysis, coal and gangue are digital identified, and "coal fighting" or "gangue fighting" are determined according to coal quality.The beaten coal and the gangue are discharged through the fine coal tape and the gangue tape, respectively.
The underground hourly treatment amount of Lingbei Mine is now 1 300 t. According to the coal quality data, the content of + 50 mm is 17.87%, and the hourly amount is 232.31 t.For the coal table, refer to Table 2.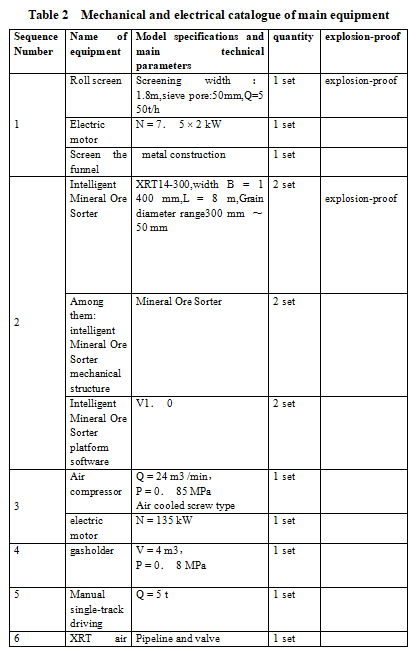 As can be seen from Table 2,1 roller screen, 2 intelligent dry selection (1 400 mm wide), and equipped with air compressor storage tank and corresponding supporting facilities.
XRT Intelligent Mineral Ore Sorter of the whole system is simple and efficient, to meet the requirements of the number of equipment and power consumption is also low.
2.4 Facility location
Lingbei mine considering its underground conditions are limited, so in the appropriate section transformed into the corresponding chamber, the size of the chamber to meet the requirements of the arrangement of dry selection process equipment, and also have the space to repair, according to the mine to the amount of material and dry sorting machine capacity, considering the use of two sets of dry selection parallel layout of sorting.The chamber is about 8 m wide, about 17 m long and about 10 m high, with the whole system equipment arranged.
The layout mode is mainly divided into two layers, the upper equipment includes roller screen and intelligent drying machine, the lower layer is the external transport tape machine, mainly considering the direction of gangue and fine coal belt, if the parallel direction, the groove needs to be inclined, the floor height is naturally high, if the cross layout height difference is relatively small.According to the actual situation, the total height difference is about 10 m as considered in parallel (see Figure 1).
Figure 1 Schematic section of the east wing
3 Conclusion
The coal gangue intelligent dry selection system has been published for many years, and now it is more used in the market, with very good practical effect, high equipment efficiency, and stable operation, and has a certain market prospect.
Among them, there have been many successful cases arranged underground, and the operation effect is relatively good.In general, because there is underground, there are certain restrictions on maintenance than the ground, but with the progress of dry selection technology, there will be more suitable and more simple underground layout in the future, and the effect will be better.The lower limit of the equipment arranged this time can be 30 mm, and the processing capacity will also meet the requirements, and good results will be achieved after installation.
More about HOT Mining, please visit our website.
Any inquiry for XRT Intelligent Dry Type Coal and Mineral Ore Separator , please contact us.
Mr.William
Email: william.lai@hot-mining.com
Tel: +86 15756877473 (Whatsapp)
Email: sale@hot-mining.com