CCD or XRT, which one is more suitable for your mine?
For ores with apparent surface features and significant differences in color, texture, and glossiness, such as black tungsten, some antimony ores, and non-metallic minerals like calcium carbonate, quartz, and phosphorus, CCD color sorting (high-definition image recognition) technology is recommended.

For most ores with unclear surface features, such as copper, lead-zinc, tungsten, tin, antimony, molybdenum, gold-silver, sulfur, fluorite, feldspar, coal, etc., accurate knowledge of the internal structure of the ore is necessary for precise waste separation. Therefore, X-Ray transmission (XRT) is recommended, which uses the ore density characteristics (size, density, thickness) and relevant components (atomic sequence) to sort waste based on X-ray reaction differences.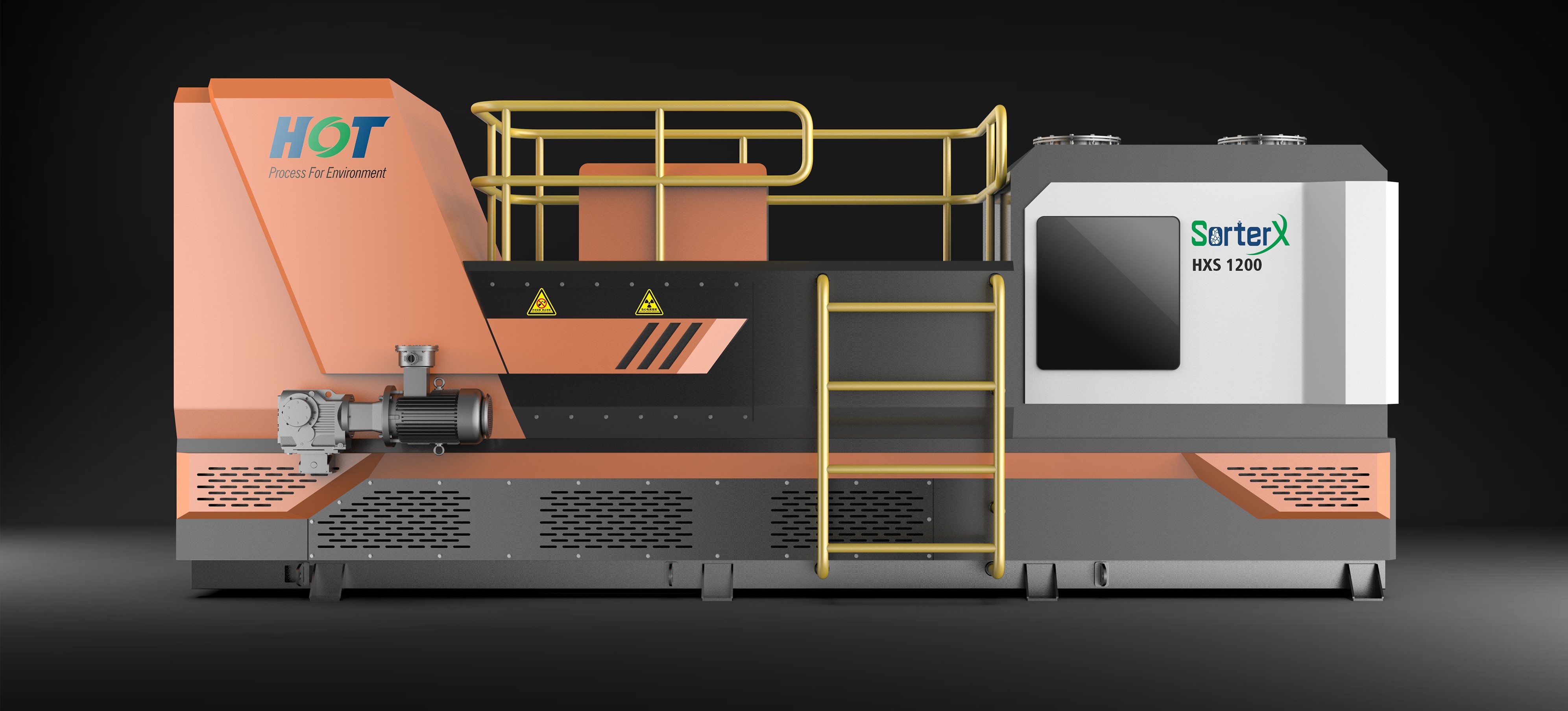 For some mines that require the recovery of valuable non-metallic minerals, such as quartz in gangue, a combined process of XRT and color sorting (high-definition image recognition) technology can be considered. First, XRT technology is used to select the ore, and then color sorting (high-definition image recognition) technology is used to choose the quartz or other valuable resources in the gangue. HOT Industries (Chengdu) Co Ltd has delivered some projects with above hybrid method.
Let's focus on quartz sand.
High-purity quartz sand is the primary raw material for producing quartz crucibles for photovoltaic monocrystalline silicon. With the further expansion of the crystal pulling and cell manufacturing process scale and the market opportunities for domestic substitution, its market demand will show a strong trend. However, the current domestic production capacity of high-purity quartz sand applicable to photovoltaic grades is limited, and the direction of crystal pulling development puts higher requirements on the purity of quartz sand. Therefore, finding high-quality quartz sources and improving purification technology is urgent. In addition, the market demand for low-iron quartz sand used in photovoltaic ultra-white glass will also experience explosive growth, and its large-scale supply may encounter bottlenecks. To solve this development bottleneck, developing various quartz raw materials deep processing technologies and improving the grade of quartz raw materials is imperative.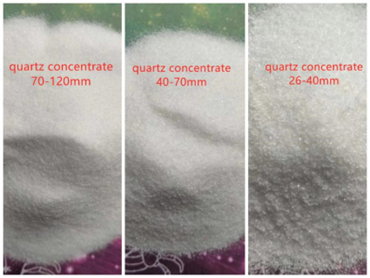 Application of Matrix CCD ore color sorters in quartz sand
Ore color sorters are mainly used in the quartz stone industry in the following three aspects:
(1) The particle requirements for color sorting of quartz stone particles of 3-8 cm (commonly known as "38 blocks") are limited to particles that large blocks and miscellaneous stones can separate, excluding interlayer ore, black heart, and associated ore.
(2) The color sorting of 0.5-3 cm quartz stone particles includes interlayer ore, black heart, and associated ore.
(3) The color sorting of 4-120 mesh quartz sand can sort not only quartz sand but also natural sand, sea sand, etc. The impurities of the raw materials should be controlled within 5% as much as possible. If the contaminants exceed 5%, they must be color-sorted more than twice to be processed cleanly.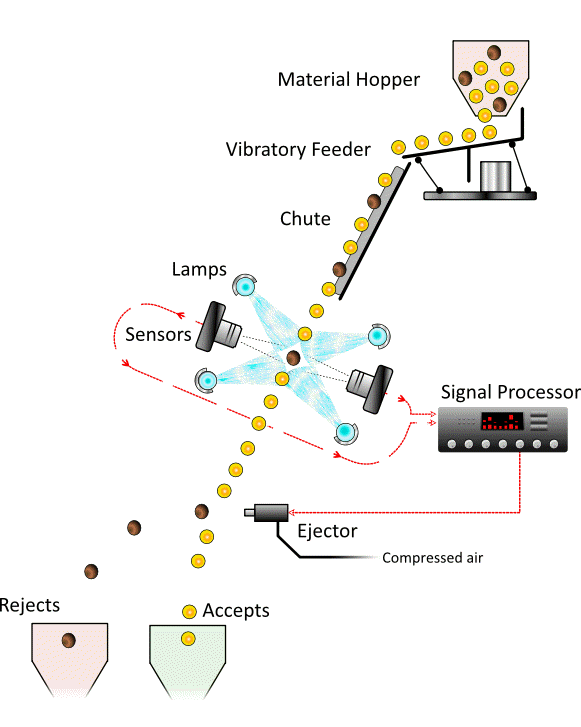 The process flow of ore color sorters in quartz stone beneficiation mainly includes three aspects:
(1) Dry particle selection: First, crush the particles into "38 blocks" for selection, and then crush them again into 0.5-3 cm particles. After water washing, drying, and grading, color sorting is performed.
(2) Wet particle selection: First, crush the particles into "38 blocks", then water washing, and then directly perform color sorting. Second, crush them into the range of 5mm-3cm for color sorting (note: less than 5mm cannot be wet selected).
(3) Quartz sand: Raw materials of quartz sand-namely artificial quartz sand, natural sand, and sea sand-are graded first, usually into 4-6 mesh, 6-8 mesh, 8-16 mesh, 16-26 mesh, 26-40 mesh, 40-70 mesh, and 70-120 mesh. Then, 8-120 mesh materials are magnetically sorted, and color sorted.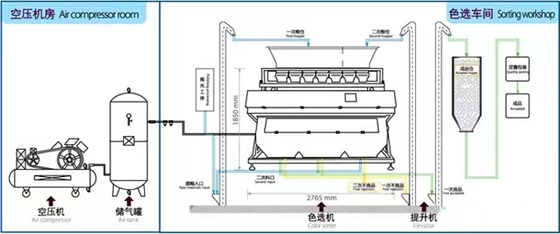 Advantages of the Matrix color sorter:
Extensive particle size range: The color sorter can sort particles with a maximum capacity of 8cm and a minimum of 140 meshes.
Adapt to multiple ore types: The range covers nearly a hundred non-metallic minerals such as quartz stone, silica, heavy spar, orthoclase, calcite, fluorite, calcite, gypsum, calcium carbonate, fused quartz, granite, salt, jade, phosphate, talc, silica lime, pebbles, kaolin, etc.
Support diverse selection: The color sorter supports an extensive range of mixed material selection, and materials ranging from 5mm to 3cm can be mixed for selection. The color sorting effect is unexpectedly good, with large output, and has unique advantages compared to similar equipment.
Strong anti-interference ability: The color sorting effect of the Matrix color sorter is not affected by external environmental factors, whether day or night, winter or summer; the Matrix color sorter is not affected by external light and temperature and operates stably.
New Era Of CCD Color Sorting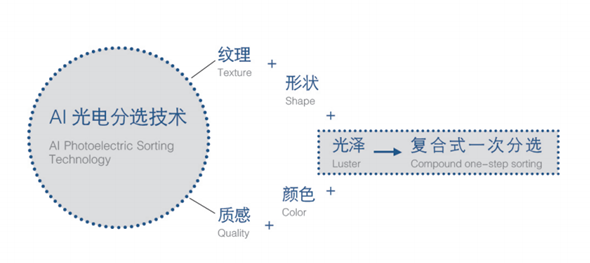 The development from color sorters to AI-embedded sorters represents a significant improvement from 1 to N. While color sorters can only sort based on color, artificial intelligence-based sorters can use visible differences in ore texture, color, shape, glossiness, and other features to extract, learn, model, and sort. This has significantly improved sorting personalization, diversity, and efficiency.
The IIoT-based (Industrial Internet of Things) CCD color sorter management platform
The research on the IIoT-based (Industrial Internet of Things) CCD color sorter management platform is a corporate-level color sorting management platform that combines advanced intelligent control, sensing technology, CCD technology, computer technology, network communication technology, and Web GIS technology based on the Internet of Things.
(1) Color sorter equipment monitoring terminal enterprise: The physical components of color sorter equipment include a feeding mechanism, separation mechanism, photoelectric detection mechanism, signal processing system, and human-machine interface. The hardware parameters involved in the remote monitoring platform mainly come from the CCD camera and the main control board.
(2) Cloud server-side: The cloud server-side is the central module of the system, responsible for connecting and maintaining terminal equipment, storing and processing command information, etc.
(3) Client-side: The client-side system fully embodies the system's multi-element visualization operation concept. It provides users with a diverse monitoring and operating platform. Besides, the devices listed in the figure can also be connected to auxiliary peripherals such as copiers, printers, fax machines, cameras, and large screens.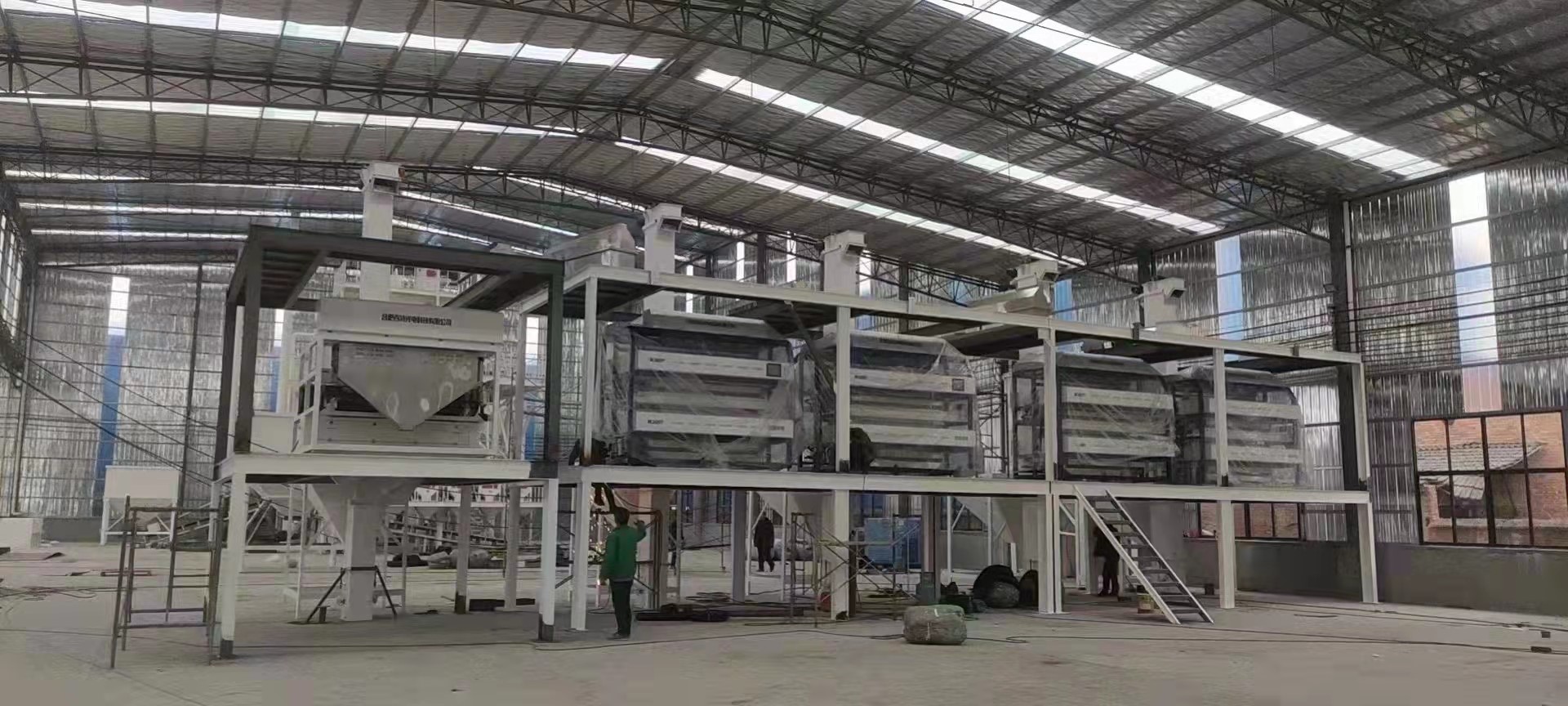 Field application of mes process ore color sorter
By calling Google Map Web service API, loading maps, and color sorting devices and their annotation information, users can supervise the production and processing of equipment and adjust parameters anytime and anywhere, providing the best working experience. The data exchange between the client-side real-time monitoring module and the server uses the Internet. The platform also has functions such as remote diagnosis, remote upgrade, equipment archives, operation and maintenance management, and data analysis, further improving and guaranteeing production management efficiency.
The service capabilities and economic benefits of the IIoT-Based color sorter management platform:
(1) Remote interconnection of equipment. Realize the online operation of color sorting equipment, improve efficiency, and save operating costs for mining enterprises.
(2) Real-time extensive data analysis. Mine data is analyzed to guide customers in optimizing processing technology and enhancing customer value.
(3) Remote equipment operation and maintenance. Solve equipment maintenance problems for mining enterprises, reduce downtime, and reduce the human cost of equipment manufacturers while improving service efficiency and capabilities.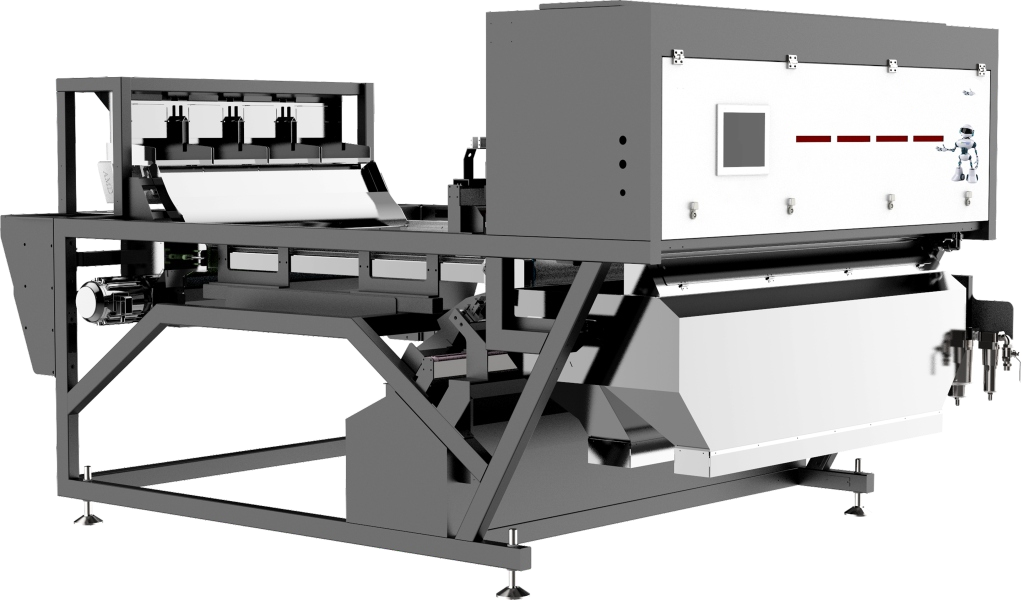 Contact us:
Tiffany Chen
+86 18282103350
tiffany.chen@hot-mining.com
http://www.miningmes.com/ore-color-sorter/
http://www.hotminingepc.com/xrt-intelligent-sorting-coal-mineral