As a non-renewable mineral resource, phosphate mines' sustainable development and utilization are directly related to food security, human survival, and growth.
China's phosphate resources are mainly marine sedimentary deposits, with abundant reserves ranking fourth in the world. However, a few rich and many poor ores have different grades of phosphate resources, as shown in Table 1.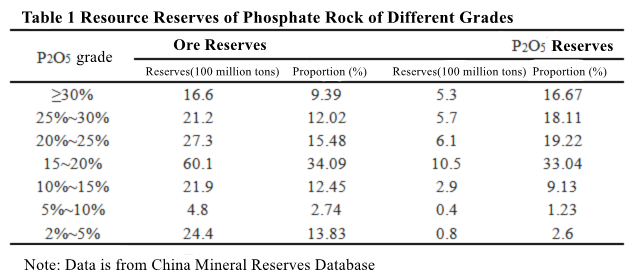 The average grade of China's phosphate rock (P2O5) is about 17%, much lower than Morocco (33%) and the United States (30%). Besides a few rich ores that can be directly used to produce phosphate fertilizers and yellow phosphorus, most phosphate rock needs to be processed through beneficiation, resulting in high beneficiation costs.
Types of phosphate mines: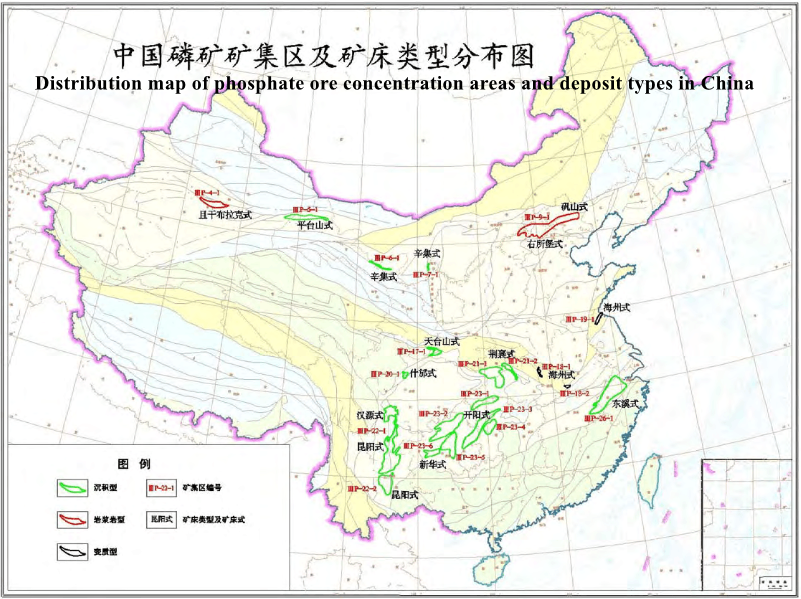 According to the content and type of vein minerals, phosphate rock can be divided into calcareous, siliceous, and calcareous-siliceous phosphate rock. China's phosphate rock is mainly sedimentary, accounting for about 70% of the total reserves. Due to vein minerals such as calcite, fluorite, and quartz in the minerals, the grade of phosphate rock is low. In addition, the ore is tightly embedded, the cementation symbiosis is common, and the mining is problematic, resulting in high development and utilization costs. The characteristics of China's phosphate resources are large reserves, relatively concentrated distribution; many low-grade phosphate ores, few rich ore resources; many colloidal phosphate ores, and difficult mining and selection; sedimentary phosphate deposits are the primary deposit types. Therefore, to improve the economic value of phosphate mining and utilization, it is necessary to have a deep understanding of the characteristics of phosphate resources, choose an excellent pre-rejection process, improve the floatation grade of phosphate rock, and continuously optimize the reagent system and process plan.
Application of XRT Sorter in phosphate mines
A particular phosphate mine in Yichang used the XRT Sorter, with a processing capacity of 60t/h and a feed particle size of 10-50mm. The grade of block ore (P2O5) was 13.8%-15.7%, the grade of optically selected concentrate (P2O5) was 26.5-27.8%, and the grade of optically selected tailings (P2O5) was ≤7.0%. The original ore was sorted by optical selection to separate phosphate concentrate and tailings. The optical selected phosphate concentrate product met the sales requirements of commercial phosphate mines in Yichang, Hubei Province, for external sales. In addition, this process does not require floatation or reselection, and the tailings rejection rate is high, directly obtaining phosphate concentrate products.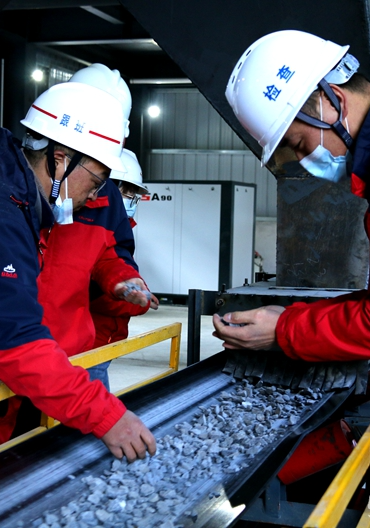 Mine Supervisors Are Inspecting The Ore Quality After Pre-Concentration
The project uses an optical selection process and dry selection equipment, which does not require water, only compressed air. The discharged dust-containing waste gas can meet environmental emission standards after being treated by a bag-type dust collector and a water mist dust removal system. This process has no ecological problems or risks, the optical selection process technology is mature, the equipment is simple and reliable, and the economic benefits are good.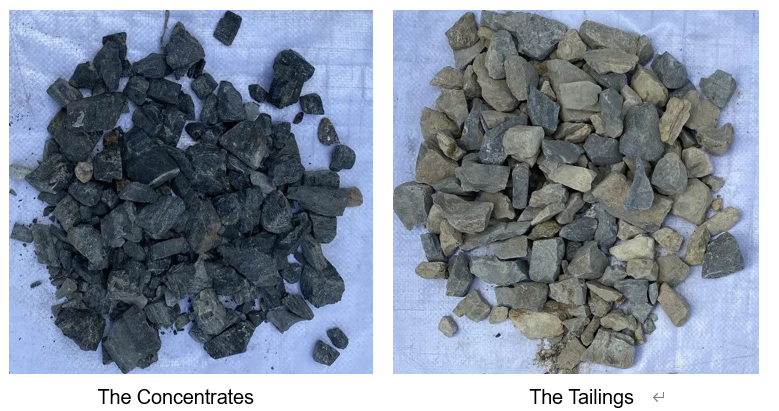 A specific phosphate mine in Leibo, Sichuan, used the XRT Sorter, with a processing capacity of 55/h and a feed particle size of 10-50mm. The grade of block ore (P2O5) was 20.0%, and the grade of optically selected concentrate (P2O5) was ≥23.2%. As a result, the rejection rate reached 19.8%, effectively improving the grade of ore entering the selection, significantly reducing the amount of ore entering the fine crushing and grinding mills, reducing the production cost of beneficiation, and increasing the production capacity of the beneficiation plant. At the same time, it can reduce the number of tailings entering the tailings pond, extend the service life of the tailings pond, and reduce environmental pollution, genuinely realizing the dual promotion of economic development and ecological protection for enterprises to achieve green, environmental protection, high-quality, and scientific development.

In conclusion, HOT XRT Sorter, innovatively used in the beneficiation of medium and low-grade phosphate rock, can realize the pre-selection of incompletely dissociated ores by pre-rejecting a certain proportion of waste rock, reduce the processing volume of downstream processes, and be safe and environmentally friendly, saving energy, reagents, and water resources. It can also be used to select valuable waste rock for secondary recovery, which is worth promoting and applying in the beneficiation of low-grade phosphate rock worldwide. Furthermore, HOT XRT Sorter solves the pollution control problems in the mining, sorting, stacking, and transportation of phosphate mines, providing a new way to achieve clean production, recycling, and pollutant reduction in mines.
---
Contact us
Email: sales@hot-mining.com
Linkedin: Click here