HFLS Flip-Flow Screen is the ideal solution for sticky and difficult to screen materials. Typical applications are inhomogenous and wet recycling materials as well as high moisture and sticky ash minerals and clay type materials. The particle size is typically between 0 - 100 mm (0 - 4 inches).
The product is equipped with numerical control processing, technology and testing equipment to ensure the quality and performance of the vibrating screen, to ensure the safety and reliability of the screen. Each vibrating screen is fully assembled before leaving the factory and run for 8 hours. The vibration amplitude and frequency are tested by VB, and the reliability is verified by drawing the running curve with coordinate method The natural frequency was detected by the frequency analyzer during 72 hours of trial operation, and the data were uploaded to the computer for finite element analysis to ensure that each vibrating screen can achieve high efficiency and safety in production.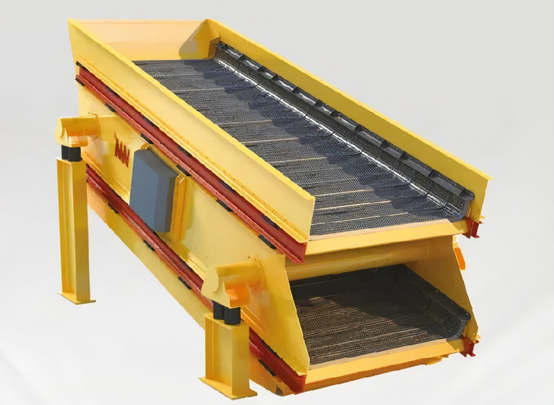 How it works:
HFLS is a vibrating screen based on resonance system. The internal frame of the screen is set to move due to the movement of the screen body, which causes the screen panel to move in a high vertical motion. The linear or circular motion of the screen creates an acceleration of the screen deck that may be higher than that of any previous screen (> 50g) . Thus, the screen surface is kept clean and the highest screen efficiency can be achieved even with the use of heavy-duty materials.
The unique new patented design connects the screen body to the inner frame through a leaf spring system. This makes the stroke and acceleration much higher than the comparable system. The new leaf spring design is not only extremely rugged, but also allows easy adjustment of stroke and acceleration without any control system.
HFLS is also available as a multideck Flip-Flow screen or combination of an Flip-Flow and conventional screen. Any available screen deck system from a wire mesh to perforated plate, finger screens or PU rubber panel systems can be used for the top deck.
Key features:
Higher screening efficiency
Acceleration values > 50g
Horizontal leaf-springs as connecting element
Adjustable oscillating angle
Reduced elevation for easier integration
Multideck Flip-Flow
Individual fine tuning of screen decks
Screwless clamped screen mats installation
Quick and easy exchange of screen mats
Typical applications:
Industrial waste
Minerals
Ore
Coal
Sand / Gravel
Clay type materials